Repair - reactor nozzle
Enamelled damages are repaired by closing the defect nozzle. Therefor the EMAIL- COVER plate is pulled from inside the reactor in front of the damaged nozzle. The fixing bolts are laying inside the nozzle.
Here are some solutions: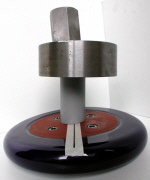 EC nozzle repair with one central fixing bolt M18. Closed was a defect DN 50 nozzle at an enameled storage tank.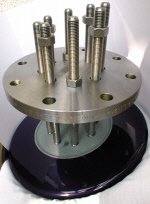 EC repair set for nozzle DN 150 on a standard E 8000 reactor. 8 fixing bolts M18 through the defect nozzel.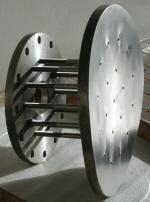 Special repair of an enamelled DN 250 nozzle with a tantalum plated COVER. Delivery time of this special COVER was only 10 working days.