Glasslined Sampling Valves download
Enamelled sampling valves of the series EC ACRS are the optimal equipment of glass lined productions. Their installation inline and on reactors, allowing a safe sampling. The valve series EC ACRS is available in nominal sizes DN 25, DN 50 and 1 "and 2", each with a heating jacket. In addition, the valve series EC ACRS can be delivered with protective cabinet and N2 purging. Of course your sampling bottle can be used. The construction,lwith the special seat cone design, has worked exceptionally well in the tough everyday operation with long service life, even for suspensions the valves are reliably.
Enamelled top reactor sampling system download
The sampling system is installed on the top of the dip pipe.
It is right for suspensions too.
First the system is purged to the reactor so that representative medium flows back into the dip pipe. The operating pressure of the reactor or vacuum can be used to draw up the product. The flow up is shown at the sight glass. The float ball is to prevent overfilling the standpipe. Now the valve on the dip pipe is to closed. At this point representative product is ready to be taken out by the glasslined sampling valve into the bottle.
To guarantee the protection of the operator the glasslined sampling valve can be equipped with a protective cabinet, a vent and a dead man handle.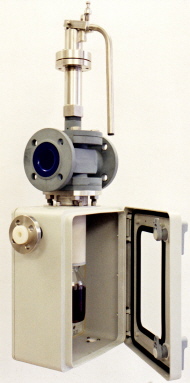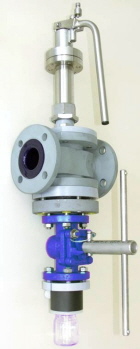 Reactor sampling with bottom valve
Enamelled reactors with one bottom outlet nozzle be closed by bottom outlet valves. The enameled bottom valve EC BV takes a sampling from the mixed area under the agitator. The valve stem is build of hastelloy and has a central borehole. A special coupling with a PTFE lined hose connects the valve stem with a 3/2 way valve. The 3/2 valve allows to purge through the valve stem first into the reactor and finally to take the sample out. The sample bottle is housed in a protective cabinet.