Molten material sampler for bitumen, liquid sulfur, molten phenol
form vessels or process lines

This sampling system is used to extract "Melts", molten materials such as Bitumen from vessels or process lines. The sampler can guarantee safe sampling by isolating a fixed volume in a pre-chamber, within a protection cabinet. Because of the fixed volume prevents an overflowing of the sample receptacle. To keep the temperature of the melt the sampler body has a complete steam jacket. The protectiv cabinet is responsible for the spatial separation of the filling process and the controls. These are located on the outside of the cabinet. The sampler is operated by two air operated, spring return actuators, which are mutually interlocked by a single multi-directional control valve.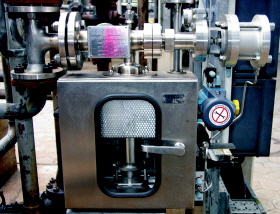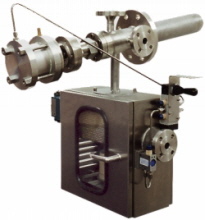 Sampling ball valve till 300°C
form process line

Metallic sealed special ball valve. By turning the operation handle about 180 degree the fixed volume 50ml is dispensed into the sampling bottle (fixed volume 15ml till 50ml are possible). The system can be delivered with dobblejacket for heating, stem extension (photo) and pneu. actuator.